Westcliff Homes For Sale
Westcliff Homes For Sale
We have resources here at Westcliff Homes For Sale to help you find real estate agents in the nearby area. Therefor, these agents know the area well and can help you buy or sell your home with local knowledge.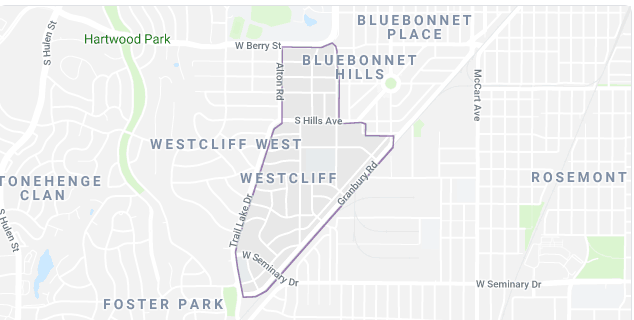 Things To Do In Westcliff Fort Worth
Neighborhood Description
Trees abound in the older part of Westcliff. Homes are predominantly one story cottages with detached garages. There are no sidewalks and very few basements. As you go south through the newer areas, the homes change to ranch style with two car attached garages and to townhomes in the Willow Lake area.
fire station: 3501 South Hills Ave., 817-871-6800, emergencies 911
medical facilities: Baylor All Saints Medical Center, 1400 8th Ave., 817-927-6102, or All Saints and Harris Hospitals in City View
Post Office: Trinity River Station, 4450 Oak Park Lane, 817-926-3497
Grocery Shopping: Westcliff Center
Mall: Hulen Mall
Park: Foster Park near Trail Lake and South Drive intersection
City Council District Number 9 or 3
School District Number 5
Voting Precinct Number: 4103, 1117, 4130 depending on the section of Westcliff
J. E. Foster – Westcliff Entrepreneur
In 1945, J. E. Foster bought the land and changed a street originally platted as Carb Avenue to Biddison. He built the Westcliff shopping center in 1945 and formed the Westcliff Company, which along with the Riverside Development Corporation, developed Westcliff from north to south between 1945 and 1965.
Westcliff Real Estate
Westcliff Real Estate is a great investment. Its close to Fort Worth but far enough away to enjoy the lower crime rate of being outside the city limits.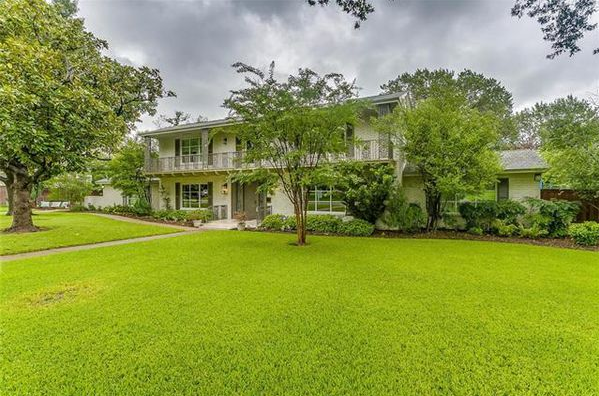 Find Westcliff Real Estate Agent
Find Westcliff Real Estate Agent close to where you are looking. If you are looking to buy your own house, invest in property or just flip houses we will direct you to top real estate agents in the area.
Real Estate Investment Westcliff Fort Worth
Real Estate Investment Westcliff Fort Worth is growing every year. We are lucky to have some of the best real estate agents that will help you find a great property for flipping, investing, and management properties.
Homes For Sale In Westcliff Fort Worth
There are many Homes For Sale In Westcliff Fort Worth. If you take a look at Zillow you will see many listed.
West Fort Worth Real Estate
West Fort Worth Estate is great if you work in Fort Worth and trying to find a house where traffic isn't as much of an issue.
Westcliff Real Estate Information
Homes for Sale in Westcliff, Fort Worth, TX have a median listing price of $315,000 and a price per square foot of $186. There are 17 active homes for sale in the Westcliff neighborhood, which spend an average of 58 days on the market. Some of the hottest neighborhoods near Westcliff are Foster Park, Westcliff West, Bluebonnet Hills, Windsor Place, Overton Park. You may also be interested in homes for sale in popular zip codes like 76109, or in neighboring cities, such as Fort Worth, Burleson, Benbrook, Haltom City, Crowley.
Fort Worth Westcliff ZIP codes: 
Fort Worth Westcliff ZIP codes: 76103, 76104, 76105, 76106, 76107
Westcliff School District: 
The Westcliff School District. Westcliff is part of Fort Worth ISD. Some of the schools include:
Westcliff School Scores
Westcliff Elementary School is a public elementary school in Fort Worth. The principal of Westcliff Elementary School is Sara Gillaspie. 41% of the Westcliff Elementary School students have "limited English proficiency." 557 children attend Westcliff Elementary School, and the ratio of students to teachers is 16:1. Hill School of Fort Worth is one of the nearest elementary schools.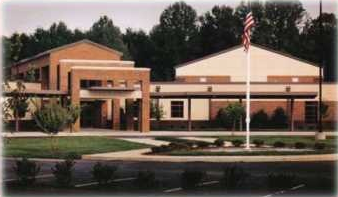 Westcliff Crime Rate
Relative to Texas, Fort Worth has a crime rate that is higher than88% of the state's cities and towns of all sizes. However, compared to other communities of similar population size, Fort Worth has a crime rate that is noticeably lower than the average.
Westcliff Median Airbnb Rental Income
Westcliff Median Airbnb Rental Income. The growing demand for short-term rentals in the city is constantly growing due to several factors:
Cultural events happening in the city
Conferences
Music Venues
Nearby Restaraunt & bars