Tanglewood Homes For Sale
Tanglewood Homes For Sale
We have resources here at Tanglewood Homes For Sale to help you find real estate agents in the nearby area. Therefor, these agents know the area well and can help you buy or sell your home with local knowledge.
Things To Do In Tanglewood Fort Worth
History
The Tanglewood neighborhood consists of land in the low areas along the branch of the Trinity River and is approximately five miles southwest from the Fort Worth Central Business District.
The Tanglewood area lies within two surveys. The western part of the addition being part of the 1854 Felix G. Beasley Survey, and the eastern part, along the branch of the river, the 1876 James Howard Survey.
The original approach to the Tanglewood area consisted of a two-rut dirt road which is now Bellaire Drive South. Up to the time of development, children enjoyed swimming in the river in a deep hole which was located where the bridge is now on Bellaire Drive South near Trinity Commons Shopping Center.
The portions of Tanglewood which are now Bellaire Park Court, Marquette Court and Autumn Court were originally a dairy farm.
Land use restrictions filed on the Tanglewood addition stipulate that all houses must be brick or stone, and have at least a two-car garage attached to the house. Even though this was ranch property, it also stated that no cows, horses or other livestock would be allowed on the property after development.
The heritage of the ranchland shows in the typical architecture of Tanglewood, the predominant being ranch style. Most of the homes are single story with a few two stories here and there. The streets wind around generally following the contours of the river and the trees tower over all. This is good bottom land and very fertile. In heavy rains the area flooded before measures were taken to control the Clear Fork and branches of the Trinity River which run through the area. The bicycle-walking trail which meanders through Tanglewood is well used and enjoyed because of the shade and park setting. It typifies the relaxed atmosphere of this executive neighborhood.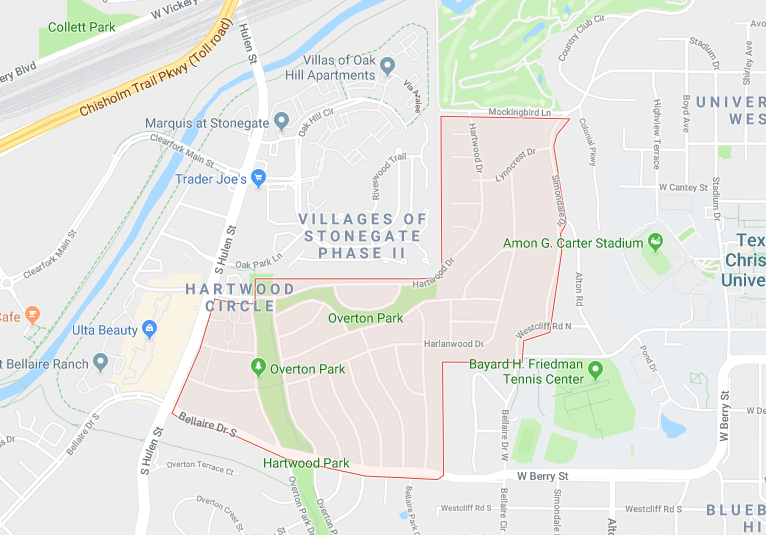 Misc Information
Nearest fire station: 3501 South Hills Ave., 817-871-6800, emergencies 911 Nearest Medical Facilities: Baylor All Saints Medical Center, 1400 8th Ave., 817-927-6102 Nearest Post Office: Trinity River Station, 4450 Oak Park Lane, 817-926-3497 Nearest Grocery Shopping: Trinity Commons Nearest Mall: Hulen Mall Nearest Park: Overton Park City Council District Number 9 School District Number 5 Voting Precinct Number: 4182
Tanglewood Real Estate
Tanglewood Real Estate is a great investment. Its close to Fort Worth but far enough away to enjoy the lower crime rate of being outside the city limits.
Find Tanglewood Real Estate Agent
Find Tanglewood Real Estate Agent close to where you are looking. If you are looking to buy your own house, invest in property or just flip houses we will direct you to top real estate agents in the area.
Real Estate Investment Tanglewood Fort Worth
Real Estate Investment Tanglewood Fort Worth is growing every year. We are lucky to have some of the best real estate agents that will help you find a great property for flipping, investing, and management properties.
Homes For Sale In Tanglewood Fort Worth
There are many Homes For Sale In Tanglewood Fort Worth. If you take a look at Zillow you will see many listed.
South Fort Worth Real Estate
South Fort Worth Estate is great if you work in Fort Worth and trying to find a house where traffic isn't as much of an issue.
Tanglewood Real Estate Information
Homes for Sale in Tanglewood, Fort Worth, TX have a median listing price of $565,000 and a price per square foot of $204. There are 16 active homes for sale in the Tanglewood neighborhood, which spend an average of 66 days on the market. Some of the hottest neighborhoods near Tanglewood are Mockingbird Lane, Overton Park, Westcliff West, Colonial Hills, Foster Park. You may also be interested in homes for sale in popular zip codes like 76109, or in neighboring cities, such as Fort Worth, North Richland Hills, Benbrook, Haltom City, Crowley.
Fort Worth Tanglewood ZIP codes: 
Fort Worth Tanglewood ZIP codes: 76109, 76110, 76111, 76112, 76113
Tanglewood School District: 
The Tanglewood School District. Tanglewood is part of Fort Worth ISD. Some of the schools include: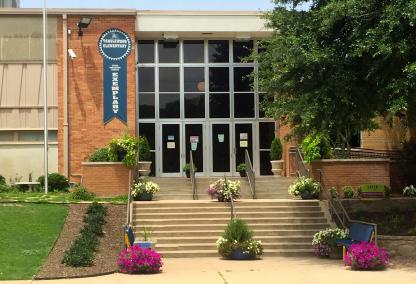 Tanglewood School Scores
Tanglewood Elementary School is a public elementary school in Fort Worth. The principal of Tanglewood Elementary School is Connie Smith. 2% of the Tanglewood Elementary School students are "limited in English proficiency." 751 children attend Tanglewood Elementary School, and the student to teacher ratio is 19:1. Texas School of the Arts is one of the nearest elementary schools.
Tanglewood Crime Rate
Relative to Texas, Fort Worth has a crime rate that is higher than88% of the state's cities and towns of all sizes. However, compared to other communities of similar population size, Fort Worth has a crime rate that is noticeably lower than the average.
Tanglewood Median Airbnb Rental Income
Tanglewood Median Airbnb Rental Income. The growing demand for short-term rentals in the city is constantly growing due to several factors:
Cultural events happening in the city
Conferences
Music Venues
Nearby Restaraunt & bars